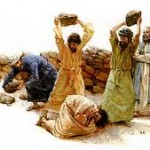 Appel à manifestation devant le Palais de Justice, Place Poelaert à Bruxelles, ce samedi 28 août 2010 à 13 heures
A l'initiative du Conseil des Femmes Francophones de Belgique et du Vrouwenraad, et la participation des organisations suivantes:
ABVV, ACLI Vlaanderen Vrouwencoördinatie, ACLVB-Vrouwenwerking, ACV, Amnesty International, ASGB, Business and Professionnal Women – Belgium (BPW-Belgium), CD&V Vrouw en Maatschappij, Centre d'Action Laïque (CAL), Centre Communautaire Laïc Juif ( CCLJ), Centre Féminin d'Education Permanente, Comité de Liaison des Femmes, Conseil des Femmes Juives de Belgique (CFJB/LJVB ), Dar al Amal, « 1 homme 1 femme » (ECOLO), Forum van Vlaamse Vrouwengroepen (FVV), Raad van de Afrikaanse Gemeenschappen-Vlaanderen, Groupe pour l'abolition des mutilations sexuelles (GAMS Belgique), GROEN !, Femmes Prévoyantes socialistes  (F.P.S), Femmes Réformatrices (MR), Femmes et Société (CDH), FGTB- ABVV, Fédération WIZO België-Luxemburg, FLORA, Groupement belge de la Porte Ouverte, Humanistisch – Vrijzinnige Vereniging (HVV), Liberale Vrouwen, K.A.V Vrouwen in Bewegen, KVLV- Vrouwen met vaart, Insoumise et Dévoilée, Marche Mondiale des Femmes -Wereldvrouwenmars, Medical Women's Association of Belgium (M.W.A.Be), Monde selon les Femmes, Moeders voor Vrede, Ni Putes ni Soumises, Plura, Réseau d'Action pour la Promotion d'un Etat laïque (R.A.P.P.E.L), Réseau de Femmes immigrées et d'origine étrangère, Université des Femmes, Sophia, SLFP, Soroptimist International-Belgique, Synergie Wallonie pour l'égalité entre les femmes et les hommes, Unie Vrijzinnige Verenigingen (UVV) VIVA, V.O.K, Zonta International, Zij-Kant – sociaal progressieve Vrouwenbeweging, la Zaïroise et ses soeurs, 'ZIJN' Beweging tegen Geweld vzw
Nous, citoyen(ne)s et militant(e)s associatifs, féministes, laïques, engagé-e-s dans la lutte pour le droit des femmes, nous nous joignons à la protestation internationale contre la lapidation et rejoingnons ainsi l'action des « 100 Villes de par le monde contre la LAPIDATION »!
Nous appelons les membres de nos associations, ainsi que toutes les organisations à nous rejoindre pour dénoncer le sort réservé à ces milliers de femmes qui souffrent au quotidien et qui sont victimes de pratiques inadmissibles.
La campagne internationale pour sauver Sakineh Ashtiani de la lapidation a mis en lumière devant le monde ce barbare et criminel châtiment. Aujourd'hui le nom de Sakineh est connu par des millions de gens, alors que son cas n'est que le reflet de celui des milliers de femmes qui souffrent victimes de l'obscurantisme.
C'est pourquoi devant le Palais de Justice nous appellerons les manifestant-e-s à bâtir un mur de protection contre la lapidation.
Rejoignez-nous ce samedi 28 août devant le Palais de Justice de Bruxelles de 13h à 14h.